It's the holidays, and you've got a hankering for a getaway or even a pretty bad case of cabin fever. But maybe you've already blown your budget on a Black Friday mad shopping dash or you simply don't have the slightest idea on what to do. Look no farther than your own backyard for some low-cost or no-cost festive fun 24/7/365—or 366 in a leap year, which happens to be just two months away at the time of this post!
Unsilent Night
The brainchild of NYC-via-Ohio experimental composer Phil Kline, Unsilent Night is not your grandma's (let alone your great-great-great-grandma's!) caroling round. It features four different tracks randomly synced in an ambient sonic swirl on boomboxes and MP3 players. A holiday soundscape tradition since 1992, this is an event that can be enjoyed locally or internationally. Unsilent Night is held throughout the month of December across North America, recently expanding to Asia, Africa, and Australia.
Here's a clip of my 2012 Santa Monica shindig:
For the ultimate electronic Yuletide experience, you can also start your own Unsilent Night in your hometown!
The Bunny Museum
Not surprisingly, The Bunny Museum, the mini fluffy Taj Mahal of Pasadena, has been voted the cutest and the weirdest museum where the standard greeting includes a bunny fist bump and bunny ears in the form of "V for Victory" hand gesture above the head. This Guinness World Record-breaking "Hoppiest Place on Earth" is a no-brainer choice for animal lovers, although a caveat is in order: the eclectic, extensive collection of bunny knick-knacks (fruitfully multiplying daily at five figures and counting!) may be an acquired taste for some, especially the freeze-dried bunnies that were once pets. Come and see for yourself!
The home of Candace Frazee and Steve Lubanski (collectively monikered Lubunnzee) doubles as a museum celebrating their marriage, beginning from their courtship on Valentine's Day 1993 when they first gave each other a bunny item every day as a love token. More on this (and then some!) on my interview video with the ever-so-bubbly Candace here on my About page.
Yes, there are real live resident bunnies, of course! Bonus: there's something for everybody here. Ailurophiles, rejoice! As the quintessential cat lady, Candace has quite a menagerie of friendly felines.
The Bunny Museum is open to the public on all holidays or privately by appointment. Hop on over!
Riverside County
Riverside Festival of Lights
Recently voted number one on the USA Today Top 10 Best Readers' Choice, this annual downtown electric spectacle, running from Black Friday to the first week of January, also features live entertainment by locals, skating rink, food stands, open-air arts market, horse carriages, and the occasional mini-zoo—with live reindeers at one point.
The Festival of Lights is not just a spectator sport! If you're artistically inclined, you may also apply to become paid performers.
The old-world charm of the four-star Mission Inn Hotel & Spa, host of the Festival of Lights, makes for wonderful year-round retreats, weddings, business meetings, and conventions.
Pro tip: Avoid rush-hour visits, usually between 4:00 to 7:30 pm, as traffic is severely congested, especially during the holidays. A ten-minute one-way commute usually turns into an hour.
Riverside Live
Obviously, don't expect the accommodations and attractions of internationally known major metro/urban areas such as LA in the suburban sprawl of the Inland Empire. It's unlikely to catch more recent or ongoing famous figures staging their shows here, but who says that you have to go all the way to LA or Orange County for some pretty hip entertainment?
Just a few blocks away from the Mission Inn, Riverside Live comprises the fully renovated Fox Theater and the Riverside Municipal Auditorium under the management of Live Nation, the parent company of House of Blues and a merger with Ticketmaster. The Fox caters to fans of classic films, Broadway, stand-up comedy, classical music, family-friendly entertainment, tribute bands, and top 60s-80s artists/bands returning to the performing circuit, while RMA showcases edgier old and new acts in EDM, rap, alternative rock, and metal, plus more tribute bands.
Planning your own special event? The above venues are also available for rent.
Fender Visitor Center
If you're a fellow musician or hardcore music aficionado, the Fender Visitor Center in Corona may just be your sweet spot. Not to be missed is the guided factory tour. At only $10 per pop (or half price with AAA discount), you get a fun, inexpensive educational experience seeing the various stages of guitar manufacturing from the beginning to the end, and yes, it was a treat to see the birthplace of my Telecaster. Having had gag-me-with-a-spoon, monotonous office stints that involved assembly line-types of tasks, I say mad props to the workers in the Fender factory! They surely put lots of time, energy, and dedication into the craft that makes it possible to enjoy all those good ol' lovely Fender tones—from dreamy bell-like tones to ear-splitting wall of sound. This would boost any music lover's appreciation for guitar music to the nth degree.
The exhibit-slash-gift store is packed with standard souvenir goodies including T-shirts, magnets, books, and guitar picks, plus instruments that you can test-drive in the jam rooms. It can't get more rockin' fun than this!
If you want your very own custom axe, this is the right place to have it built!
Pro tip #1: The Visitor Center is closed closer to Christmas up to New Year. Plan accordingly.
Pro tip #2: Do not confuse the Visitor Center with the Fender Museum. They're on different street addresses, although they're both in Corona. The Visitor Center is the location of the gift store and the factory. The Museum focuses more on music education. Your better bet is to go to the Visitor Center.
Redlands
Holiday excess calories be damned praised! Redlands, known for its quaint metroesque-artsy-chic-meets-down-homey-small-town boutiques and specialty gourmet eateries, is perfect for stuffing your inner foodie. Here are a few top picks among them.
à la minute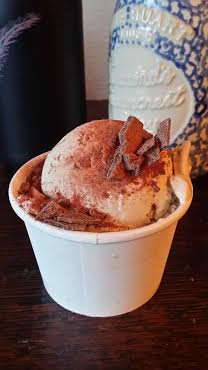 An instant hit since it opened in March 2012, à la minute boasts locally sourced, handcrafted, all-organic ingredients. Everything is made to order (hence the shop name) using liquid nitrogen. à la minute features house favorites, as well as seasonal flavors and weekly specials.
If you want to venture farther out to LA and Orange Counties, visit the Claremont and Orange branches. All three branches offer signature flavors unique to each location.
Thinking about throwing a little party at home or any other special events? à la minute also offers catering to jazz up everyone's palates.
Theron's Frozen Custard
By way of the Midwest, this hole-in-the-wall serves up delectably thick, frozen custard and a variety of deli-style sandwiches. Choose from the house menu or build your own. Enjoy your goodies under the serene shade of the pomegranate trees in the patio facing a scenic park.
Theron's also offers catering service for your event.
Dhat Island
Bringing the Caribbean breeze to the Inland Empire, the dishes create a veritable explosion of Creole spices in your taste buds. Make room for fares such as oxtail soup, curry goat, Mich Fondue Créole, bourbon chicken, Créole chicken with rice, black beans, and plantains, plus ginger beer, fresh whole baby coconut, and beignets, too! Bring your beastly appetite as the portions are king-sized!
The folks at Dhat Island also have catering covered if you have something special planned.
In short, Dhat Island = phat island. Ya mon!
Honorable mentions
Feeling a little adventurous? Here's a list of offbeat locales.
For more travel tips, ideas, discounts, and information on local and international destinations, check out magazines published by AAA regional clubs across the country. Westways is published by the Automobile Club of Southern California.
While you're out having the time of your life, remember to also book some fun animal party for your furry friends at home! I'll be glad to hold down the fort while you're away!
Please follow and Like An Artful Dogger: