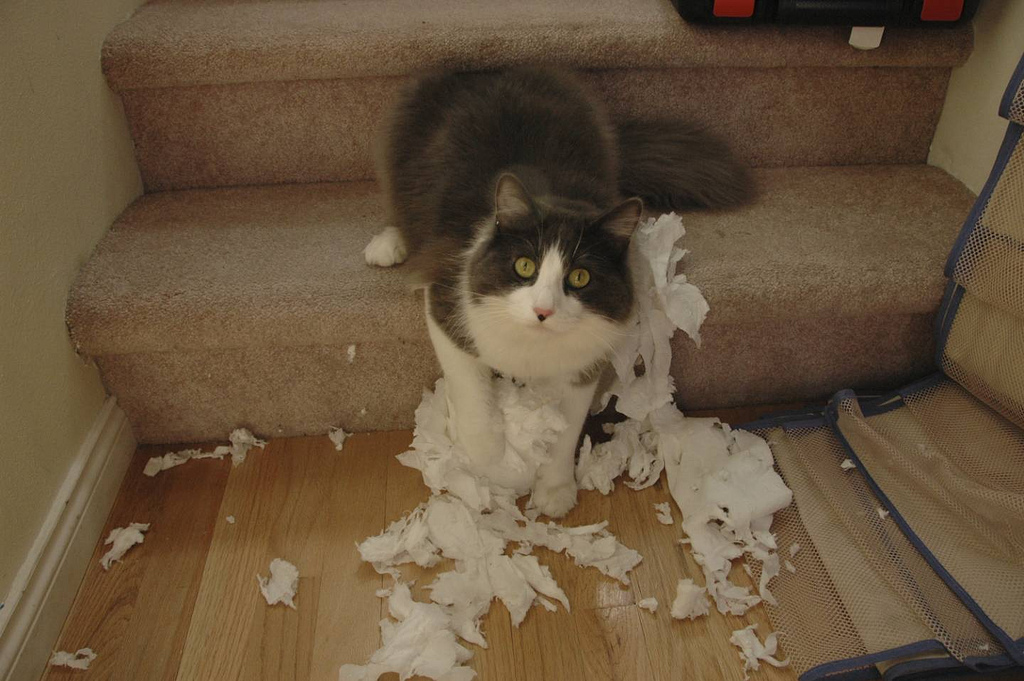 Keeping our living space clean is one of those duties that we pet owners especially can't avoid. You can use any old products to clean, but typical products don't clean well or are even harmful. Adding more harmful stuff to get things extra clean definitely won't help matters.
My friend and I previously worked in facilities that required some hazmat training. When you work at a factory or for some other type of company where your job involves working with chemicals, the company is legally mandated to post warnings in the form of very detailed manuals—some of which are as thick as phone books—of all the ingredients in those chemicals and all the possible resulting symptoms from their use. The chemicals in home-use cleaning products are the exact same ones that require regulation and warnings in factories. However, there is no such warning requirement placed on chemical manufacturers who sell their products for home use.
Considering the cumulative effect of toxic chemicals seeping into your system when you spend all your time cleaning with typical cleaners and using typical hygienic or grooming products for you and your pets, it only makes perfect sense to switch to natural products, especially if you have four- and/or two-legged kids scampering about in your home.
Here's a list of excellent products that keep you and your pets safe and your home sparkling clean.
Swiffer dry/wet sweeper
Swiffer easily traps pet hair and dander on hard surfaces. However, the Swiffer refill cloths can get costly if you must clean very frequently, so save them for the last stage of sweeping.
Casabella
Before you use Swiffer, sweep the floor first with a broom, then use a brush with dustpan. Casabella has high-quality cleaning tools. You may also find Casabella and similar products by other companies at a bargain in discount stores such as Marshalls and Ross.
Furrfighters
Forget about schlepping heavy vacuum cleaners and constantly buying lint rollers! Furrfighters are suede gloves that easily remove fur, lint, and dandruff from most surfaces. Simply swipe the glove a few times over the area to be cleaned. Furrfighters are washable and reusable. Another reason to choose Furrfighters is the excellent customer service.
Melaleuca
With its vast array of inventories, Melaleuca is by far the mother of all cleaning products. Its nontoxic, eco-friendly, concentrated EcoSense products have multiple uses for both humans and pets, as well as the kitchen, laundry, bathroom, and many more places and situations imaginable. You may create different concoctions for different purposes by simply mixing different EcoSense products, various Melaleuca bath and body products, and Melaleuca PURE™ essential oils for both yourself and your pet, as well as housecleaning. As a "zookeeper" in a menagerie of massive 24/7 shedding, peeing, and pooping machines—namely, my three dogs and two cats—and someone who offers housecleaning services in addition to pet sitting, I never stay at home or leave home without Melaleuca.
Dubbed the liquid gold, Sol-U-Mel is the ultimate multipurpose EcoSense product. A green soap tincture with tea tree oil, Sol-U-Mel dissolves tough stains such as grease, grime, gum, ink, and blood. It's also used as a disinfectant. It can be used in your bathwater to soften your skin or as a flea dip for your pet. Mix it with water in a spray bottle as an insect repellent. Use it to freshen your cat's litter box. You can even use it to get rid of skunk odor! The possibilities are endless. For extensive details of the uses of all Melaleuca products, check out the official Melaleuca guide, also available on Amazon, and this informal Melaleuca member blog site.
My personal flea dip recipe for dogs includes the Melaleuca ProCare pet shampoo, formulated with jojoba oil and tea tree oil, plus a tub of warm water mixed with a few capfuls of Sol-U-Mel and a few drops of Melaleuca PURE™ essential oils for a great scent that eliminates the stronger tea tree smell. Some of the flea-repelling essential oils are geranium and lemongrass. (Note: It's generally not advised to use essential oils on cats unless directed or supervised by a holistic vet. A safe essential oil-based flea repellent for both dogs and cats is the Dr. Mercola Healthy Pets line.) Although Sol-U-Mel contains tea tree essential oil, it is already diluted with soap and water, and many uses require adding more water to it, so it's generally safer. For pet use, you must dilute essential oils in carrier oils such as jojoba, almond, or coconut oil and also water in some cases. My colleague Dori Whynott of Professional Pet Sitting, Etc. has some pointers on useful and safe essential oils for dogs. It's also recommended or even necessary to dilute for human use, depending on the kinds of oil. Running a diffuser is the safest method of using essential oils. Melaleuca also carries an excellent all-in-one ultrasonic diffuser/humidifier, light and small enough for travel.
Another notable Melaleuca product is the Renew lotion to prevent and heal the driest skin year-round. It can also be used for pets. Another friend of mine applied it on the dry paw pads of her cats. Within just a couple of days, the dryness was completely gone. Renew can also be mixed with T36-C5® Melaleuca (tea tree) oil as an insect repellent.
Melaleuca is available only online and by mail order. To take advantage of the significantly discounted prices on the products, you have to become a Melaleuca member and make a monthly purchase commitment totaling at least 35 points (somewhere between $65-$75 including sales tax and shipping, depending on what you order). There is a one-time membership fee of only $29. The $1 membership special is occasionally offered. I recommend membership as Melaleuca is practically a one-stop shop for nutrition, home, and beauty products, plus more, but if membership isn't really up your alley, you may buy the products directly from me. Another less preferable option is to buy them on eBay as selection may be limited and more expensive.
Method
One of my personal favorites, the Method line is a great, affordable alternative available in many brick-and-mortar stores. However, it's not quite as versatile as Melaleuca. Like many other conventional products, each Method product is best used separately.
Nature's Miracle
The perennial favorite of many pet parents, Nature's Miracle is my second choice if it's available where I pet sit or house sit and I happen to not have Melaleuca on hand.
Diatomaceous earth (DE)
This is yet another all-natural, all-purpose product for human, pet, and household use. A few uses include housecleaning, meal supplement for humans and pets, pest control, and flea repellent that is particularly safe to use for cats. Be sure to get organic food-grade DE. Keep in mind that this is not the same as the processed pool-grade DE, which is harmful.
DiatomaceousEarth.com has extensive information on the uses of DE and the best DE price with fast shipping.
Now that you know all these great products that leaves everything squeaky clean and smelling like a million bucks, cleaning might just be your new hobby!
   by 
justinbaeder
Please follow and Like An Artful Dogger: