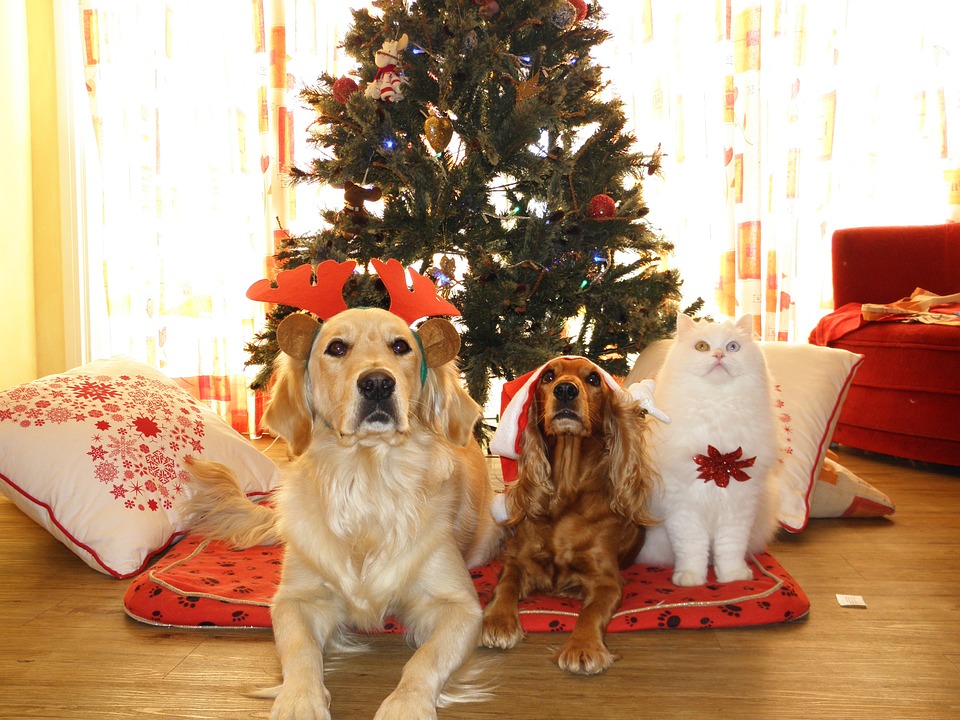 The holidays are upon us. Stuffing, parties, tree lights, camera, action!
It's the most wonderful time of the year to break out a few of your favorite things, but some of them aren't safe for your furry kids. If you're not careful, you'll end up singing the blues instead of some Christmas carols and pop tunes!
Just like Santa, you'll do well by checking the below list twice—or more—for your own and your furry family's well-being and enjoyment this season.
Brown paper packages tied up with strings
Gift exchanges are the highlight of the event, but watch out for strings, bows, and wrappers. Keep them away from your curious kitties and playful pups. They can choke on them or swallow them, causing intestinal blockage. This may mean a trip to the operating room or even death.
Crisp apple strudels and schnitzel with noodles
Holiday parties are a great excuse to indulge in some serious carbs and rich, fattening desserts and entrées, but if you're not careful, oops, there goes your waistline! As bad as it may sound, it pales in comparison to what can happen to your furry kids.
Bringing some figgy pudding is out of the question when you have pets around. Too much sugar in treats is obviously never a good thing. Xylitol, a more healthful sweetener alternative for humans, is dangerous to pets, even in small amounts. Xylitol is about 100 times more toxic than chocolate to dogs. It causes insulin levels to elevate quickly, progressing to hypoglycemia, liver failure, seizure, coma, or death. Other symptoms include vomiting, weakness, tremors, lethargy, and loss of muscle coordination.
Gas buildup from uncooked yeast dough causes bloat, severe pain, and possible rupture of the digestive system. Since ethanol is a byproduct of yeast, dogs can get drunk after eating raw dough.
Fatty foods can cause pancreatitis, a very painful, serious condition requiring hospitalization. This had unfortunately happened to Gonzo, my late cocker, and Miki, one of my kitty boys. It was pretty painful on the wallet as well. Cost of damages: several hundred dollars of X-rays and a series of IV fluids.
Pork schnitzel with caramelized onion egg noodles are heavenly, but don't think about giving them to your pet or letting your pet steal them. Onions are toxic to dogs. It causes anemia by damaging red blood cells.
And yes, watch out for the bones in those pieces of meat! They can pierce your pet's intestines or be lodged there.
Here we come a-wassailing
Of course, there's nothing wrong with enjoying a little festive libation here and there, but sip a little too much—there's a DUI mess waiting to happen. It's just as fatal with pets. You don't want alcoholic drinks to come a-assailing your pets if they get too close to them. Just one single consumption can cause death. Other symptoms include vomiting, diarrhea, decreased coordination, central nervous system depression, breathing difficulty, tremors, and abnormal blood acidity.
Chestnuts roasting on an open fire
Generally, chestnuts are safe for dogs and cats, except horse chestnut. All parts of the plant is highly toxic.
Avoid other types of nuts. Macadamia nuts cause weakness, depression, vomiting, tremors, and hypothermia in dogs. The high oil and fat content in almonds, pecans, and walnuts can cause vomiting, diarrhea, and possible pancreatitis.
Some corn for popping
Popcorn is yet another bad snack idea for pets. Excess amounts of salt cause thirst, urination, vomiting, diarrhea, depression, increased body temperature, tremors, seizures, and death.
Have a holly jolly Christmas
But oh, by gosh, by golly, it's not time for mistletoe and holly and poinsettias and lilies! These toxic plants can cause GI upset—vomiting, nausea, and diarrhea—or even organ failure and death.
O Christmas tree, O Christmas tree, how lovely are your branches!
Well, not so lovely if your pets get a hold of them! They may knock down the tree or worse, get injured by ingesting parts of it or the ornaments that hang from it.
Don't let your pets drink the water at the base of a natural tree. It can contain hazardous chemicals, preservatives, or bacteria.
Dashing through the snow door
As your guests jingle all the way to your home, keep a close eye on your furry charges. Train them not to bolt out the door. Use these suggestions to prevent pets from escaping or to locate them in case they manage to get loose.
You may also consider crating them, putting them on a leash, or have them stay in a separate room. This helps control their anxiety or excitability level. Help them mellow out more and keep them safe by following some of the tips on this post regarding safety precautions and natural solutions for relaxation.
***
Follow these tips and you and your furry kids will be on the way to rockin' around the Christmas tree and get your party hoppin' until the New Year and beyond!
Resources
American Humane Association: Holiday Issues
ASPCA: People Foods to Avoid Feeding Your Pets
The Association of Professional Dog Trainers: Dog Safety Tips for the Holidays
Halo Pets: Holiday Safety Tips for Pets
Please follow and Like An Artful Dogger: