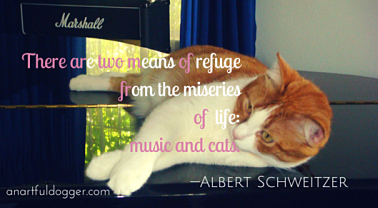 Passions are like potato chips. No one can have just one.
That's how we multipotentialites/polymaths/scanners/Renaissance personalities/Jacks and Jills of all trades roll. We flit from one interest to another, picking up a bunch of stuff and diving deep into it, then ditching it, going to the next new thing, then back the old thing again. Repeat cycle ad infinitum.
I'd always been A-OK with my plural nature—until society said that it wasn't. And it's still sticking to its guns. There's always been real pressure to specialize because financial security is top priority, especially if you come from an immigrant community like I do.
I've always been a swan in a pond full of ducks. For the longest time, I've felt alone and inadequate, being judged for not being able to settle with one thing permanently.
A lot of us multipotentialites have been branded as freaks, slackers, flaky, unfocused, irresponsible, and easily distracted. (SQUIRREL!)
Yes, I'm definitely freaky and guilty of squirrel pursuit, but slacker? Heck, no.
It takes a lot of effort to spin many plates. Multipotentiality isn't for couch potatoes. Continue reading →