The cat's out of the bag, and the fur is flying in this ADD-addled adventure for all ages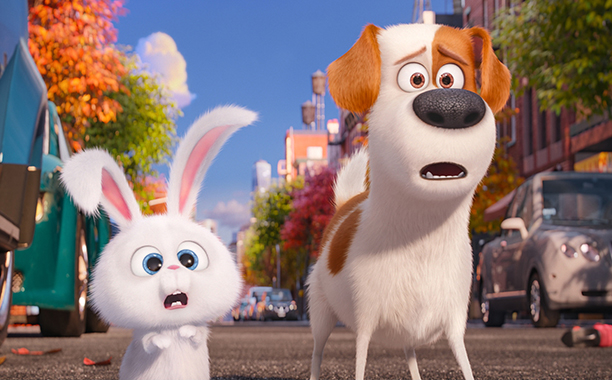 From the vantage point of professional pet care providers, The Secret Life of Pets probably makes the case for daily pet sitting services given the behind-closed-doors, high-rise hijinks of its fluffy, feathery, and scaly cast of characters while their owners are out for work.
Never mind the trigger-alert scene already predicted to ruffle the feathers (pun intended) of pet professionals in light of the recent rash of pet sitter abuse incidents—the negligent dog walker releasing the hounds to chat up his crush at the park.
Potential Get a Real Pet Sitter agitprop aside, this latest release by Illumination, the mastermind behind the Despicable Me franchise, serves up gags galore against the frenetic, larger-and-better-than-life Technicolor backdrop of the Big Apple: Leonard, a metalhead standard poodle who cranks up the volume (System of a Down, no less!) the minute his classical music fan owner steps out; Buddy (Hannibal Buress), a crafty Dachshund who turns a mixer on the kitchen counter into a makeshift self-massage parlor; Norman (director Chris Renaud), a disoriented, klutzy guinea pig who could probably use a GPS; and Chloe (Lake Bell), a fridge-raiding, self-absorbed slacker feline who is certainly guilty of at least two of the seven deadly sins.
At the center of the action is Max (Louis C. K.), a pampered pooch living a charmed life with Katie (Ellie Kemper), his doting guardian. Max the Jack Russell's domestic bliss is soon interrupted by Duke (Eric Stonestreet), a burly brown Newfoundland Katie brings home from the pound. Their interaction quickly devolves into an all-out turf war. Their jealousy-fueled rivalry, however, is short-lived. They are forced to bond as they find themselves accosted by a gang of alley cats, animal control officers, and finally, The Flushed Pets, a critterly underground antihuman terrorist network led by Kevin Hart's showstopping hell-on-wheels Snowball, an adorably and hilariously diabolical bunny with a major chip on his shoulder over owners who turned their backs on them.
Upon Max and Duke's disappearance, Max's telenovela-loving Pomeranian paramour Gidget (Jenny Slate) assembles a ragtag rescue team of neighborhood animals including Tiberius (Albert Brooks), a formerly unsocialized hawk on a crash course to curb his predatory appetite, and Pops (Dana Carvey), a cranky, paralyzed senior basset hound, leading up to a showdown with Snowball's assorted sewer baddies. Madcap shenanigans à la Shaun the Sheep ensue.
The series of random goofiness doesn't stop right there. Cue in dizzying scenes from the theater of the absurd where anything goes: careening car chases with exotics and livestock like Snowball's sidekick Tattoo (Michael Beattie), the inked-up, pierced porker behind the wheel, followed by a group of literal party animals, then a pig-out at Weiner [sic] Kingdom where Max and Duke drift away into a surrealistic vision of all-you-can-eat sausage revue that makes you wonder if they've eaten one too many magic mushrooms instead. Let's not forget the solemn gathering of The Flushed Pets to honor Ricky the duck, their fallen comrade in the revolution. Bonus: throw some Minions cameo into the mix.
As it is with any kiddie entertainment, don't expect cerebral sophistication in Illumination's seemingly haphazard narrative arc, but there's plenty of rollicking fun for all ages in The Secret Life of Pets. Puzzlingly dubbed a retread of a cheap thrill at best and a Toy Story-derivative flash in the pan devoid of logical plot progression and meaningful message at worst by some critics, it shouldn't stop you from running—not walking—to your nearest theater. Just be sure to not leave your pets unattended in the meantime. Three-dimensional life imitating animated art most likely isn't what you want!
Please follow and Like An Artful Dogger: