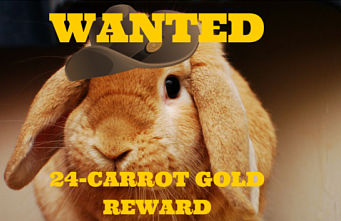 Missing or finding lost pets is an inevitable fact of life. It's just the nature of the beast—pardon the pun.
It's never fun to lose a critter family member, especially if looking after furry charges is part of what you do for a living or some sort of contract arrangement. Sometimes pets disappear despite our best efforts. This year, a few colleagues and I have dealt with easily spooked runaway pets in our care with pretty extensive escape history. One ran away for a day or two. Another took off five miles away from home while the one I sat managed to bolt out of the fenced patio after getting startled by a sudden thunderstorm. Two days later, a Good Samaritan found him nearly drowning in a canal two miles away. Fortunately, all of the dogs were safe.
About a couple of weeks before the Houdini pooch incident, I had a stray who decided to make my home his new permanent hangout. I couldn't locate the original owner after numerous attempts, but on a happier note, Pico the Chiweenie is now a rather spoiled new member of the pack.
You'll simply never know when your pet is gone. When the unexpected happens, here are some preventive and recovery tips to keep your sanity and safely fetch your—or someone else's—best friend.
Pro Tip #1: Other than good old Craigslist, start a listing on Lost My Doggie, Lost My Kitty, Helping Lost Pets, and The Center for Lost Pets. Also check out local Facebook Groups for lost and found pets.
For lost dogs, Finding Rover is a useful facial recognition app available on iOS and Android.
Pro Tip #2: When listing the pet on any of the above sites, use only general description and post only one photo. Do not use pet's name and do not provide extensive details. Leave the task of verification to callers claiming ownership of the pet. Make sure their description matches. Unscrupulous folks are out there engaging in pet flipping. You definitely don't want them to snatch the pet!
Pro Tip #3: For detailed steps on locating lost and found pets, Missing Pet Partnership is a comprehensive site that includes dogs, cats, and some exotics, as well as behaviors specific to each species.
Pro Tip #4: Assume that all pets are flight risks and targets of pet thieves. Watch them like a hawk. Do not leave them unattended outside. Make sure they don't slip through doors and gates. Consider having tall, solid fences that are difficult for them to climb. Make sure there are no spaces between and under the fences where they can slip or crawl.
Pro Tip #5: Get reflective, or better yet, glow-in-the-dark/LED collars and bells. Safe Cat® has a selection of cat-safe reflective collars with bells. For dogs, it's best to get bells for gun dogs or hunting dogs. Look them up on Google to see which websites have the best choices and prices. You can also find hunting dog bells on eBay.
Pro Tip #6: Get a pet tag. Love Your Pets has the best deals on tags. As a safety precaution, do not list your pet's name. (See Tip #2 ). It's not advisable to put your name and your location, especially if you're a single female living alone in a big city. Otherwise, it would be OK to list your name. Use your best judgment. If you live in a small town or you often travel long distance with your pet, it's helpful to have your name and location (city and state) on the tag.
Instead of putting your name, your pet's name, or your location on the tag, print NEEDS DAILY MEDS. This will encourage people to contact you promptly in the event your pet is lost.
Also consider getting a Google Voice number to put on the tag. The number goes with you everywhere across the globe, accessible via mobile phone or e-mail, wherever Internet connection is available. Should you get unwanted calls, you can easily and permanently block the numbers.
Pro Tip #7: Go high-tech for extra safety and peace of mind. On the high end is Whistle, a pet tracking combination of GPS and mobile app.
An excellent and more affordable alternative is the multipurpose Hi & Lo QR tag developed by a former professional pet sitter. It's always a good idea to have your pet microchipped, but sometimes microchips can't be scanned properly. Having a tag like Hi & Lo, scannable by either a smartphone or a tablet, makes the job a lot easier. Unlike most other tags that can easily fade overtime, Hi & Lo has a long-lasting epoxy coating. Hi & Lo gives you the convenience of updating your profile and your pet's profile anytime, as often as you like or need, by setting up an online account. This comes in as a very handy substitute for a packet or binder of pet sitting information and instructions. You can also control the amount of information to be displayed by tweaking privacy settings. You and your pet sitter or anyone else in charge of pet care can also leave messages for each other via Hi & Lo if everyone's too pressed for time to send a text or e-mail.
Thanks to the partnership between PetSittingOlogy and Hi & Lo, as a member of the PSO inner circle, I'm pleased to offer the tags at a discount. Get in touch with me to get the goodies!
Please follow and Like An Artful Dogger: