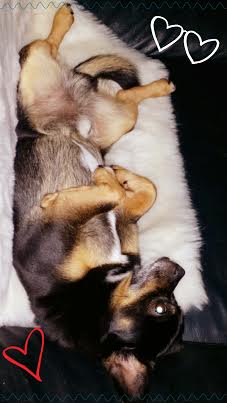 I'm probably a rare bird (pardon the animal pun!) among pet sitters since not very many of them are too fond of overnight or live-in pet sitting, so they simply don't offer that type of service, which is generally in high demand.
Virtually all who have requested my services are business and vacation travelers. Curiously, I haven't had a single commuter make any reservations just yet! It just happens that way. But it works out to everyone's advantage! I particularly enjoy the overnight niche, anyway.
Overnight/live-in pet sitting or house sitting is pawesomely right for you if:
You have a puppy or a senior dog.
You have a pet with health issues, some behavioral problems, separation anxiety, general anxiety, or naturally clingy personality.
You have a sizable menagerie.
You simply want more peace of mind, period. Even if you have only one pet or no pets at all.
If you fit in any of those categories, you're in luck! Read on.
The Perks of Overnight Pet Sitting
All-inclusive service
House sitting is included while you're away to keep your property safely and securely occupied. Being away for a certain period of time may cancel your home insurance or raise its premium due to potential damage and theft. You must purchase a separate vacant home insurance policy from certain companies that offer it, costing you more. Home staging is an alternative solution, but it's generally expensive. Hiring a pet sitter/house sitter can help you save more of your hard-earned cash and your sanity!
In addition to having your pet taken care of, your pet sitter also offers mail/package pick-up, plant watering, trash takeout, and pet waste pick-up. Your pet sitter checks the house and its surroundings, secures doors, gates, and alarms, and performs any other reasonable household task(s).
House sitting is a very convenient one-stop solution. No need to make separate arrangements for pet boarding and house checks with friends, neighbors, or relatives. I'll be glad to take care of everything!
If anything ever goes wrong (it can and it does!), your pet sitter's got your back! Having a sitter in your premises most of the time is important or even vital. As a case in point, my Pico had a near-freak accident. One of his hind leg nails got caught on his collar bell while he was scratching himself. He shrieked in pain. He was stuck. He couldn't move much. I had to quickly figure out a way to release him by taking off the collar altogether. Imagine something like that happening to your pet. You'll be glad someone's watching him or her most of the time while you're gone!
Fortunately, despite having had the occasional considerable mishaps that come with the sitting territory, I haven't experienced any life-threatening issues. (Crossing fingers and paws that my present and future clients and I always stay safe!) As recounted by friends and colleagues, there have been many incidences where pet parents and homeowners averted further damage or danger by having reliable pet sitters.
No stress or hassle for your critter family members.
They get to keep their routine—play time, meal time, medication administration time, etc. Particularly for dogs and cats, they're also in a comfortable, cage-free setting with familiar smells, sights, and sounds. Strange, new environment upsets pets.
There is no guarantee that pets meeting each other for the first time will get along in a group setting like boarding and daycare. By staying home, your pets will also avoid potential diseases (the all-too-infamous kennel cough!) and injuries from playing rough.
No stress or hassle for your family, friends, and neighbors.
No need to stalk pester or inconvenience them whenever you need to be away from home!
No stress or hassle for you.
No need to shuffle back and forth to pick up and drop off your pet at a daycare or boarding facility. Save driving time and gas money! There's no need to worry about operating hours. Unlike boarding facilities with specific opening and closing times, your home is there for you and your pets 24/7. And of course, no more stressing about your relative, friend, or neighbor bailing out on you!
No stress or hassle for the pet sitter.
As a homebody, I much prefer being indoors, living it up with your party animals! 😉
It's generally much easier to pace my pet sitting workload without scurrying from one pet visit to another. I also get to save commute time and money by focusing more on overnight/live-in stays than daily visits, so I get to pass the savings along to you! My overnight/live-in rates are considerably lower than the rates of separate daily visits combined together.
There's also less likelihood of getting in an accident and vehicle wear and tear that naturally come with more frequent travel/visits. Contrary to popular belief, pet sitting is inherently high-risk. Burnout and injuries are all too common. I'm all about mitigating risks so that I can continue providing quality service to pet parents.
Dedicated, exclusive service.
Since I'm primarily an overnight/live-in sitter, I spend more one-on-one time with your pets (remember, they're social animals that thrive on companionship!) and keep your home occupied longer. I generally allow one household/one booking at a time to increase my availability to you, so you have a nearly undivided attention. This should put your mind at ease!
I also get to be choosy with whom I work—and so do you! More quality control for both parties.
Some overnight pet sitting suggestions for you
However, certain pets, particularly very high-energy dogs, do better with boarding or daycare. Provided that you have a relatively short trip, if any of those facilities is more your speed, I recommend Coventry Pet Resort in Redlands or Ruff House Pet Resort in Riverside.
You may be squeamish about letting people into your living space. In this case, boarding is an alternative.
If you're new to or established in my Southern California service area, which includes Redlands, Loma Linda, Colton, Grand Terrace, some parts of San Bernardino, Highland, and Yucaipa, as well as Riverside, please feel free to contact me to request an overnight/live-in service. I'll do my best to accommodate you! Go book your trip and I'll take care of the rest!
Please follow and Like An Artful Dogger: